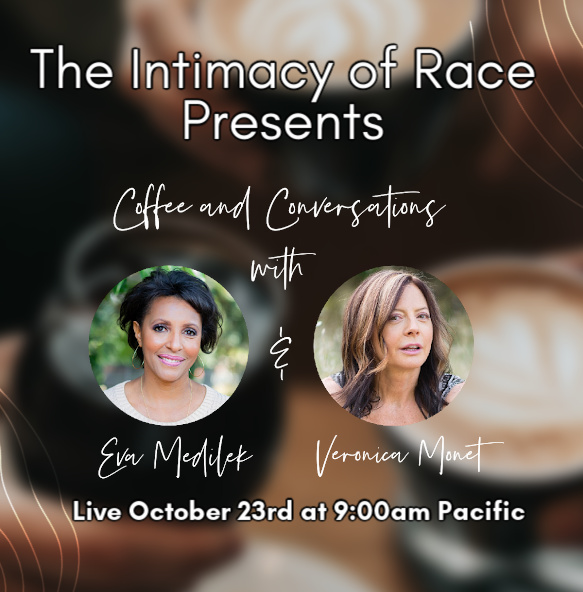 Don't worry, it's NOT too late to tune in! In fact, you can watch the whole program below!
But first a few warnings.
PG&E turned off the power in my office building about ten minutes into this conversation about racism.
After that, my host, Eva Medilek, was solo for the length of time it took me to call back into her live Facebook on my iPhone.
That might have been the end of the drama, but our sound was weird plus I entered my name wrong. Instead of Veronica Monet, it ended up saying Erotica Monet.
Darn spellcheck.
So here's the gist of our conversation:
I have had many interracial relationships over the years and even when I loved my partners very deeply, my white privilege made it easy for me to remain oblivious to how profoundly racism impacted their lives.
An encounter with a racist police officer in Los Angeles woke me from my denial and helped me to see the reality of systemic racism.
Today I know that love isn't enough. Love is beautiful but it needs to be combined with deep empathy arising from listening, learning and growing. I choose to invest the curiosity and effort to listen to Black, Indigenous and People of Color. While it's not their job to educate me, it is my job to move away from my denial and toward a growing awareness of the ways I can be part of positive change moving forward.
How about you? What is your personal experience of racism?
What is deep empathy and how do you cultivate it?
Post your answers below or send me a private email and let's keep the conversation going!